Irvine Ranch acreage gets landmark status
The governor is among those at a ceremony to announce the national designation, shared by Diamond Head and the La Brea Tar Pits.
David Reyes
Los Angeles Times
October 11, 2006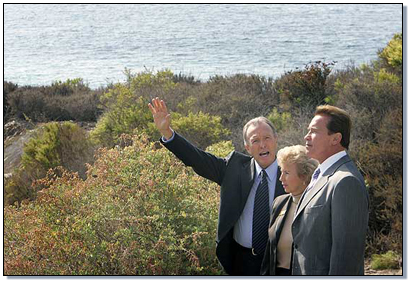 A 37,000-acre swath of Orange County that stretches from the ocean to the foothills — property that once was part of historic Irvine Ranch — was designated Tuesday a national landmark.
National Park Service Director Fran P. Mainella said the designation was in recognition of one of the best examples of preserved habitats and biological and geological characteristics in the country.
The landmark designation was part of a brief ceremony held at Crystal Cove State Park and attended by Gov. Arnold Schwarzenegger, U.S. Rep. John Campbell (R-Irvine), State Parks Director Ruth Coleman, Irvine Co. Chairman Donald Bren, Mainella and others.
Other areas similarly designated include Diamond Head in Hawaii, the La Brea Tar Pits in Los Angeles and Torrey Pines State Reserve in San Diego County.
At 37,000 acres, the Irvine Ranch National Natural Landmark is one of the largest areas to earn the designation.
The rolling land includes canyons filled with coastal sage scrub, grasslands, and oak woodlands that naturalists say emphasize Southern California's subtle, natural beauty.
During the evaluation leading to the designation, scientists noted that the area's natural resources included nearly 80 million years of geologic history "preserved, uninterrupted like a virtual encyclopedia of stratigraphy," according to Michael Soukup with the National Park Service.
Stratigraphy is the study of rock layers and layering.
The land has many owners, including the state, the county, Irvine, the Irvine Co. and the Nature Conservancy.
To qualify under the landmark criteria, a proposed site must contain some of the best examples of a natural region's biological and geological features, said Stephen Gibbons, the park service natural landmarks coordinator.
Although national parks are the country's most treasured assets, there are many other places with unique resources of national significance that won't ever be protected as parks, Gibbons said.
"I see areas that may not be national-park caliber," he said. "Nevertheless, they're great examples of our national heritage. This natural landmark is one of them."
In his remarks, Schwarzenegger said that Tuesday's event "celebrates another area of our state that can be enjoyed for generations."
He also singled Bren out for his "conservation efforts & and generosity."
The new landmark boundaries are part of the 50,000 acre Irvine Ranch Land Reserve, a nonprofit organization that Bren formed last year to help protect and restore natural resources.
At the time, Bren donated $20 million to support the trust.
Bren said that walking and hiking the ranch's wilderness lands had made him reemphasize "my dream" that Irvine Ranch would be known "for what has been preserved and protected here."
The land included in the new designation has been preserved as parks and open space by the various landowners.
It includes Limestone and Fremont canyons, Peters Canyon Regional Park near Orange, Crystal Cove State Park and Laguna Coast Wilderness Park and Bommer Canyon in Irvine.